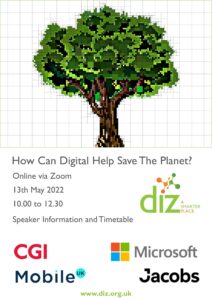 There are currently no events confirmed. Please check back regularly to see details of future events.
You can find further details of our previous events on the Past Events page where the Executive Report and Event Recording for 'How Can Digital Help Save The Planet' will shortly be made available.
How Can Digital Help Save The Planet?': A DIZ Smart Place Seminar
13th May 10.00-12.30
A DIZ Smart Place Seminar exploring how digital technology, applications and platforms can support efforts to address climate change impacts.
About this event
Climate change is one of the most critical challenges facing all of our communities. This FREE seminar will explore the extent to which digital delivery can have really positive benefits to tackling the key issues that drive carbon emission reduction and environmental impact.
The seminar will bring together expert voices from global thought leaders at Jacobs, Microsoft, CGI and Mobile UK, with an audience drawn from business, education, government, voluntary and community groups and the health sector to explore how we can collaborate to maximise the impact of digital investments and new ways of working.
Exploring key issues such as the future of work, sustainable travel and the future of planning and building, the seminar will look to identify opportunities for public sector organisations and partners to #domoregood and positively impact upon the way digital technology can promote sustainable ways of working and living in places like the DIZ. There will be a particular focus on how these digital approaches can work in a place like ours, an area comprised of large and small towns and many rural communities, located on the fringes of major cities.
This event will of particular interest to local and national stakeholders and policy makers as well as investors and innovators.
Check on our Twitter Page to find out about more upcoming events and news.